Website Monitor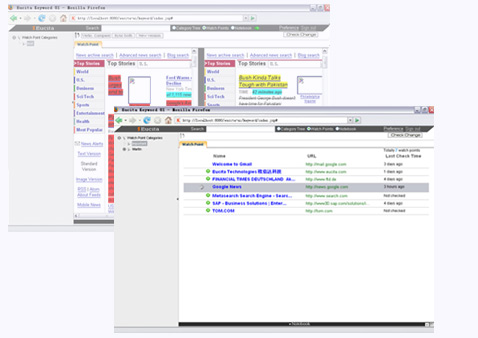 By using the website-monitoring tool provided by Eucita Technologies, users can add websites into the system and keep watching on important changes on these websites. Users can easily define the importance of changes by applying filters. Our system provides two types of manual filters: ignore filters that define which parts on a web page should be ignored when detecting changes, and watch filters that define which parts on a web page should be especially paid attention to when changing happens. Our system is also capable of automatically detecting unimportant changes and filtering them out. The websites will be checked with a frequency that can be defined by users. When an important change is detected, our system will report it either by altering in the system or by sending E-Mails or SMS to users. Users can easily compare the changed version with the old version, and locate changes within/between them. As with the news-monitoring tool, users can also add interesting parts of a web page into the notebook. All websites and notes in the notebook are full-text searchable.
News Monitoring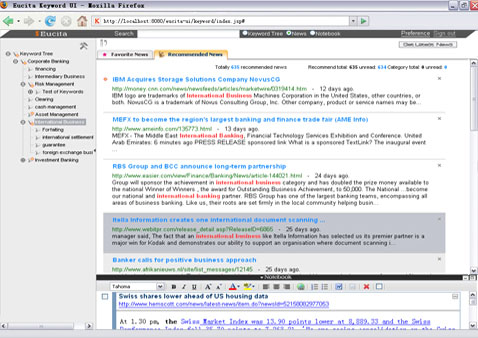 With the news-monitoring tool provided by Eucita Technologies, users can easily get access to a large amount of up-to-minutes news from numerous information sources on the Internet. These news will be automatically assigned to different pre-defined categories, which themselves can be established and maintained by the keyword-tree generation tool of our company. Users can then select the real interesting news, highlight the important parts in the news or add them as notes into the notebook. In the notebook users can edit a note as in an advanced desktop editor and add comments and tags to a note. When necessary, notes can also be exported to and shown in MS-Word via a single mouse click. All texts, including the keyword-tree, news articles (title, content, tags), and notes in the notebook (content, comments, tags) are full-text searchable. Users can also add their own information sources into the system to enable an optimal management of their knowledge and information.
Keyword-Tree Generation Tool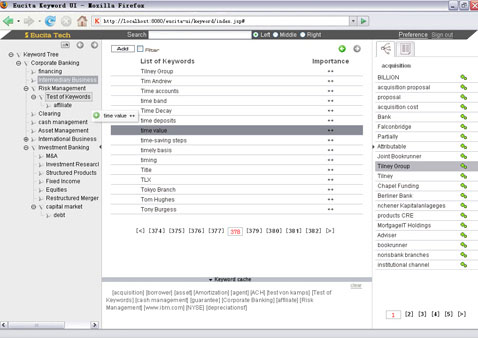 In a searching task, keywords are often used to represent information needs or domain knowledge of a user. Relationships between keywords also play a key role in that they help improving the precision and coverage of search results. How to effectively construct an organization of keywords, which contains the proper keywords and their relationships in a domain of user interest, is one of the most challenging tasks for modern search engines and other information processing softwares. The firm Eucita Technologies develops a web-based solution for generating keyword trees. The tool is capable of automatically extracting important keywords and relationships from relevant text collections, and suggesting them to users. By taking consideration of the suggestions, users are able to create and maintain a keyword tree representing her/his search interest in a convenient way.
For more information about our products: E-mail: info@eucita.com